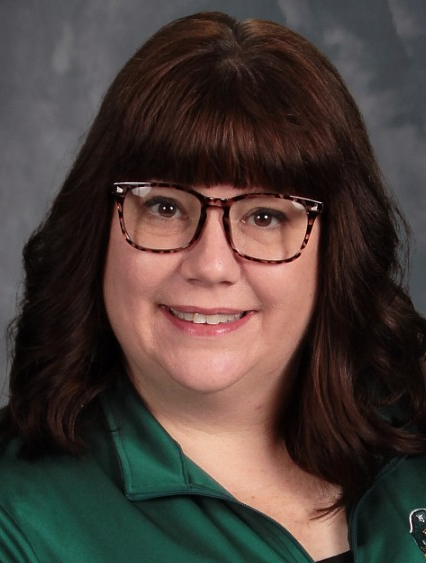 Kate Martin
Communications Director
573-547-7500, Ext. 559
kmartin@pcsd32.com
Board of Education
326 College St., Perryville, MO 63775
Physical location of office:
Central Office in the Old Senior High, Room 106
Perry County School District 32 is steeped in history and tradition - but we're constantly looking to the future. We're a dynamic campus that includes five schools:
Perryville Primary Center
Perryville Elementary School
Perry County Middle School
Perryville High School
Perryville Area Career and Technology Center
We'd love to give you a tour of the campus or an individual building. To arrange a visit, please call Kate Martin at 547-7500, ext. 559.
A brief history of Perry County School District 32 facilities
Perry County School District 32 will celebrate its 155th anniversary in 2020. The first public school classes were held in 1865 in the basement of the Methodist Church, which was located on what is now the parking lot of Ewald's Bar-B-Q near the East North and North Spring Streets. The teacher was Patrick Monoghan, a Civil War veteran and local historian.
In 1867, the center part of the first public high school building was erected. This building, which consisted of 3 rooms, was located at the corner of Magnolia and West North Streets. The first two students to complete a course of study, in 1885, were James Burgee and Fran Luckey, who went on to become a physician in Perryville.
The first 2-year Perryville High School class was graduated in 1893, which is also the year that the first telephone was installed in Perryville. Professor Frank Williams had two teaching assistants, Mr. Watkins and Mr. Macon. They offered 20 subjects - United States History, civil government, physiology, drawing, reading, spelling, writing, arithmetic, geography, English grammar, rhetoric, algebra, physics, geometry, bookkeeping, American literature, psychology, botany and literary works. They issued hand-made report cards.
In 1917, a new high school was built next to the existing building, which was then converted to a grade school. This building was used as the high school until 1938. Starting in 1933, students at PHS began petitioning the community to construct a new high school with a modern gymnasium to allow them to host sporting events on their own campus.
The high school building located at College and Edwards Streets – now called the Old Senior High School - was completed in 1938. That year, total enrollment at the high school was 348, with 193 students in the grade school across town. There were 13 teachers at the high school and 7 at the grade school. The same year the Old Senior High was completed, the Farm Engineer's Building located behind it (which now houses the maintenance department) was built.
After 80 years of serving students, the Old Senior High became the District 32 Central Office in the summer of 2019. It is still home to the Performing Arts Auditorium.
In 1945, a kindergarten program was added to the grade school. In 1952, the district added a cafeteria, band and music annex near the Farm Engineer's Building. Three years later, the PHS Booster Club hosted the first football homecoming celebration. Miss Ann Kiefner was crowned as the school's first homecoming queen.
From 1960-1966, nineteen small school districts within Perry County were annexed into District 32. Lohmann's Cafeteria becomes The Pirate's Den in 1962, serving over 700 hamburgers a day - at a cost of 25 cents each.
A library with classrooms underneath were added to the junior high school building and used for the first time during the second semester of the 1965-66 school year. During the same time, two other projects were completed. A new building was added to the complex that housed the cafeteria and the music department. The cafeteria had a seating capacity of 400 and was designed to serve 200 students in 7 minutes.
The elementary school was then constructed on the southwest corner of the campus. It was composed of two round pods. The dedication ceremony was held Nov. 13, 1966 with Mayor Wallace Gagnepain serving as Master of Ceremonies. Robert A. Lorenz, senior sales representative with Trans World Airlines, delivered the address entitled "He Who Dares To Live Must Never Cease To Learn."
In 1966, Perryville Elementary had 22 faculty members, 482 students, 7 cafeteria staff, 2 custodians and one secretary. Today, this facility is home to Perry County Middle School with students in Grade 6-8.
The new Vo-Tech building was completed in 1975 at a cost of nearly $130,000. This all-metal Butler building was ready for classes in mid-January 1975. Beginning in 1992, this building housed the Early Childhood and Special Education programs. It was demolished in 2018 to make room for the new primary center.
In 1975, voters approved a $1.25 million bond issue to build a new high school. The facilities opened in April 1976 and eliminated a number of trailers used as classrooms. The new high school housed English, social studies, math, science and special services rooms. Administrative offices, guidance offices, resource centers, a cafeteria and commons area are also included. Today, this is the Perryville Elementary School, which is undergoing a complete renovation.
After Christmas break, in early 1977, the kindergarten was moved from the Elizabeth Ann Seton Catholic School buildings in Brewer to campus classrooms in the Junior High School annex.
In 1982, the District added a new building to house two vocational education classes — auto mechanics and auto body. As a result, all classes offered by District 32 were taught on campus for the first time since 1969. This building served as the foundation of the new Perryville Area Career and Technology Center, once called Vo-Tech. It is now Building B of that complex and still houses auto service technology and automotive collision repair. Building C was built in 1991 and houses agriculture, welding, construction and industrial engineering programs. Building A was constructed in 1995 and is home to the Career Center offices, early childhood professionals, graphic design, computers and electronics, and health occupations programs. The digital media program is still located in the 1966 annex on Rolla Street.
In 1991, Board of Education President Orville Schaefer appointed a committee of 25 community people to study the needs of the growing district. The committee reported its findings in January 1992 and from their recommendations, the district developed a construction plan. In February 1993, voters approved an 18-cent increase in the operating levy and the debt service was reduced by 18 cents to leave the tax rate at the current amount.
An escrow deposit agreement between Perry County School District 32 and Mercantile Bank of St. Louis was authorized and executed covering the current school bond indebtedness. A lease/purchase agreement was made in March 1993 for the purpose of acquiring, constructing, remodeling and renovating certain campus sites, buildings, furnishings and equipment. The total project was valued at $4.4 million.
Groundbreaking ceremonies were held on June 13, 1993 with Penzel Construction serving as the general contractor and KRJ Inc. as the architect. The plan moved the elementary classrooms into the high school; the high school students into the junior high and the junior high classrooms into the elementary building. Vocational classes remained in their current locations.
In October 1993, Phase 2 was approved by voters using a second lease/purchase plan to fund an additional $2.2 million in construction and improvements. A new $769,700 kindergarten center was constructed beginning in March 1994. A junior high multipurpose building was also added. All buildings and renovated areas were dedicated on October 8, 1994.
During the same period, fundraising efforts generated $80,000 for a new track and fitness facility, which is open to the public. The Career Center's building trades class constructed a new concession stand with restrooms on the west side of the football field. In 2014, the track underwent a complete resurfacing renovation, and remains open for public use.
In March 2012, Perryville High School unveiled its renovated weight room with equipment purchased through a $10,000 grant from Pirate Athletic Club.
In 2014, the District campus saw a number of improvements and renovations, including the renovation of the track, security updates across campus, and a $100,000 technology project to improve Internet access.
The Perryville High School gymnasium remodel, which began with the replacement of the gym floor in 2012, continued in 2014 with the replacement of old windows with new, energy-efficient windows, and the installation of air conditioning and modern lighting.
Also in 2014, a new road was added at Perryville Elementary School to facilitate smoother traffic flow before and after school. In December 2014, the District began a comprehensive sidewalk plan to link all buildings on campus for safer student traffic.
In November 2015, district parents appeared before the school board to request a district-wide assessment of facilities, citing aging buildings and overcrowding as roadblocks to student success.
After 18 months of research and planning, Prop. Kids, a 35-cent tax levy increase, was placed on the April 2017 ballot to fund an 8-year capital improvements program. This Long-Range Facilities Program included construction of a new primary center to serve Grades PK-2, remodeling the current elementary school to serve Grades 3-5, remodeling and new construction at Perry County Middle School to serve Grades 6-8, overhauling athletic facilities and making improvements at Perryville High School.
Prop. KIDS passed with nearly 72% of the vote, and ground was broken on the new Perryville Primary Center on Sept. 20, 2018, and was dedicated on August 6, 2019. This 75,000-square-foot facility holds 30 regular classrooms, with each grade housed in its own "neighborhood." The gymnasium is also a FEMA-compliant storm shelter that will withstand a direct hit by an F-5 tornado. It is large enough to shelter all students and staff in the primary and elementary schools. Spacious art and music rooms, occupational and physical therapy rooms, a cafeteria, library, makers space, reading labs and a gifted education room are also home to the primary center. A shell space designated for early childhood education rooms is located on the ground floor.
A $225,000 gift from TG Missouri provided a large playground with a pirate ship play structure to complete the new school. An additional 50,000 square feet of unfinished space allows future growth.
In January 2020, the district will break ground on a second storm shelter to serve the middle and high schools, the first phase of construction of the new Perry County Middle School. The new middle school is expected to be completed in late 2023 to serve Grades 6-8. The facility will be 68,000 square feet connecting to the current PCMS multi-purpose building and cafeteria, allowing middle schoolers to attend all classes under one roof for the first time in decades. Core-subject classrooms and labs form the bulk of the facility, which also holds space for special education, family and consumer sciences, health, life skills, and art rooms. The band and choir rooms, which make up one of the FEMA shelter areas, will also serve the high school.
The District in January 2020 is home to 2,400 students and 350 staff members, and serves children from birth (through Parents As Teachers) through high school. District 32 offers dual credit through Mineral Area College and Southeast Missouri State University, Three Rivers Community College and University of Northwestern Ohio. Students enrolled at the Career Center can also earn professional certifications as certified nursing assistants, and nationally-recognized certifications in the automotive industry.
By Kate Martin, January 2020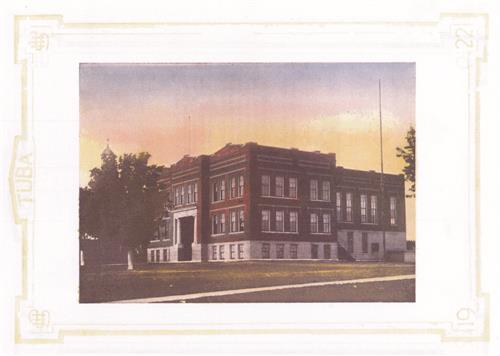 In 1917, a new high school was built next to the existing building, which was then converted to a grade school. This photo is from the 1922 Perryville High School yearbook, "The Tuba." This building remained in use as the high school until 1938. The bell tower in the background is the grade school in 1922.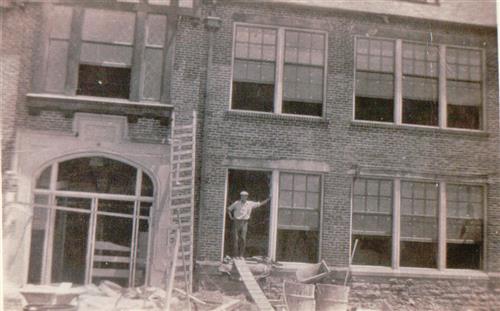 Construction of the "new" high school in 1937. This building is now called the Old Senior High School and is the centerpiece of the District 32 campus. In 2019, the central office moved into this 80-year-old building.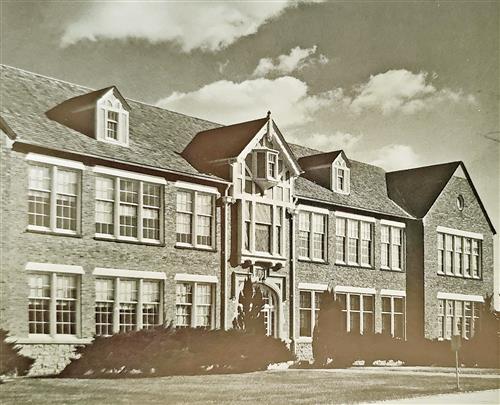 The Old Senior High building, constructed in 1938 and pictured in the 1960s, remains in use today as the District 32 Central Office and Performing Arts Auditorium.

This image from the 1967 PHS yearbook shows the construction of the new elementary school (foreground) which is currently Perry County Middle School. In the background (left and center) are the buildings that now serves as Perryville High School, and the peak of the Old Senior High can be seen at center right.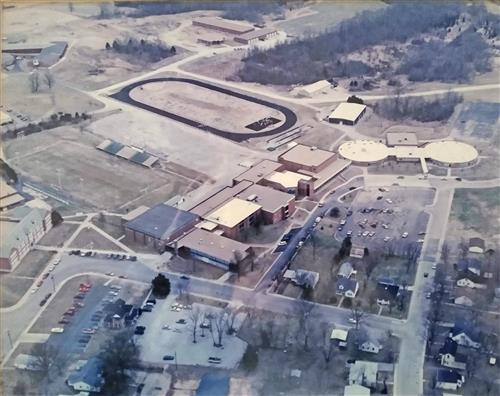 Perryville High School and the middle school multi-purpose room are shown at the center of this aerial image taken in Spring 1996. At left is the Old Senior High and at top left the rear of the elementary school. The career center is at top center and the middle school is at right center.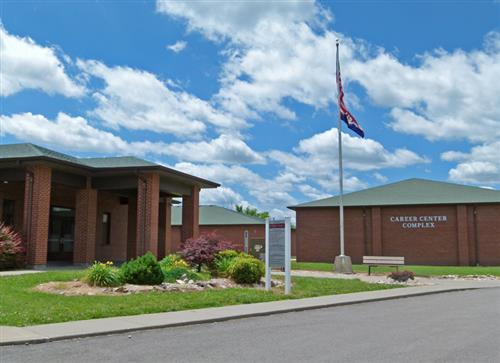 Perryville Area Career and Technology Center, pictured in 2019.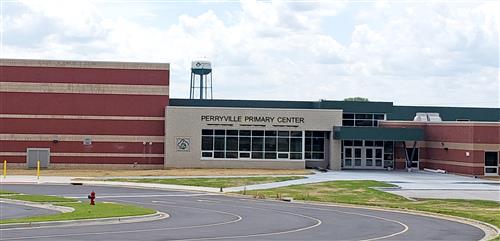 Perryville Primary Center opened in August 2019 to serve Grades K-2, after a grassroots effort by parents to pass a tax levy to address aging facilities and overcrowding at District 32 schools.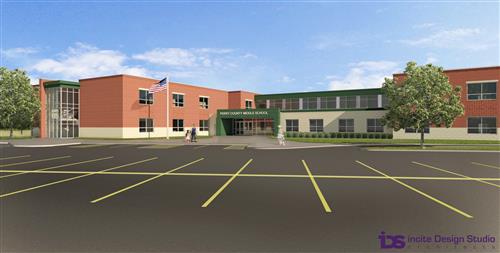 Construction will begin in January 2020 on the new Perry County Middle School, a 68,000 square-foot facility connecting to the current PCMS multi-purpose building and cafeteria, allowing middle schoolers to attend all classes under one roof for the first time in decades.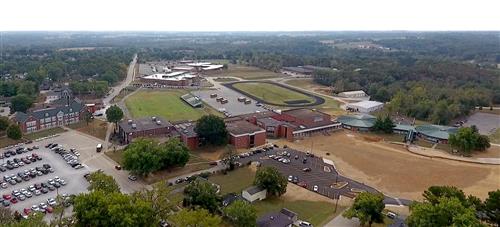 District 32 campus in January 2020.