EDIT MAIN
Parent Academy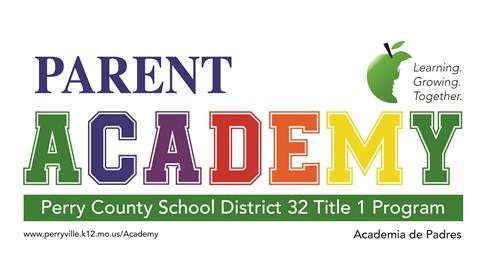 Welcome to Perry County School District 32's Parent Academy!
We offer Parent Academy sessions, workshops and resources to promote parental engagement and enhance student academic success. We've also included all of our parent outreach and volunteer opportunities on our Parent Academy calendar as well.
The purpose of Parent Academy is to help our schools and our families build strong relationships, which increases family involvement and creates positive effects for students including:
Increased achievement in math, reading, and science
Better attendance and homework completion
Participation in advance learning classes, additional earned credits and
improved graduation rates
Early postsecondary education and career planning,
Social and behavioral gains
All Parent Academy sessions, classes, and activities are free to District 32 parents and caregivers. We focus on three main areas:
Academic Success
Workshops and activities that provide parents and caregivers with tools to promote student academic achievement and to navigate the Perry County School District 32 system.
Parenting & Advocacy
Workshops and activities that provide tools to more effectively enhance parenting skills, advocacy and leadership skills.
Personal & Individual Growth
Workshops and activities that provide tools for supporting the personal and professional growth of parents and caregivers.