This Saturday is the Perryville FFA Pancake Breakfast - come and enjoy!
Job opportunities available.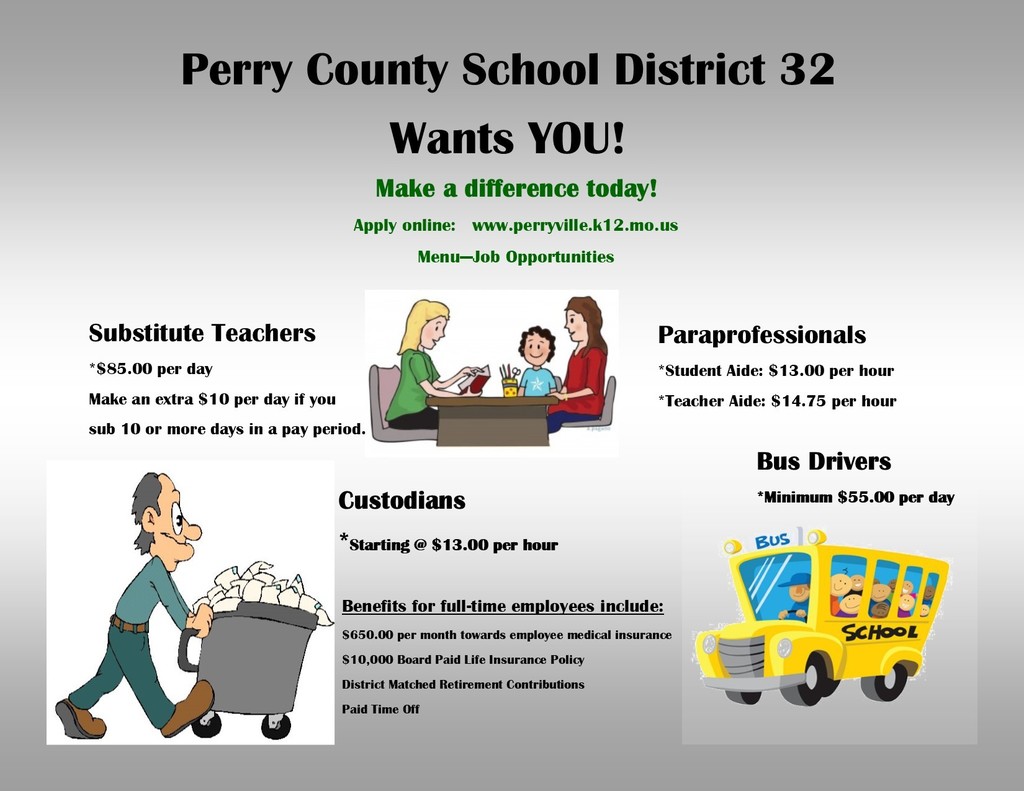 The federal government allowed schools to offer free meals to all students during the pandemic, but Congress did not extend this benefit for this coming school year. Families that are eligible for free or reduced-price meals must apply to receive them, and all other students must pay full price for their meals. The application process for free/reduced-price meals opens on July 1, and families should contact their school district to request an application. We are excited to let you know that the application is also available now to fill out online. Just go to
https://www.myschoolapps.com/
and follow the prompts.
Homecoming Dates -- Perryville High School will celebrate PHS Homecoming on Saturday, Oct. 15, 2022. Homecoming in 2023 will be held on Saturday, Oct. 21, 2023. The parade is at 10 am and the Football Pirates take the field at 1 pm on Homecoming.
SNOW DAY INSTRUCTION INFORMATION: Google Classroom Posts will occur no later than 9:00 AM. Distance learning folders with paper assignments may be provided to students who do not have internet access. Office Hours - teachers will be available for parents or students to email or message and receive quick feedback/answers during the designated time frame. ***In the event of extended days out, you should plan for students to attend virtual meetings (ex. Zoom) If you do not have Internet access at home, the District can help. Visit
https://rb.gy/jetffn
. Teacher Office Hours (quick response) 10:00-11:00 1:00-2:00 Respond by 3:30: Families may email or message questions with responses by 3:30.
Perry County School District 32 has a limited number of Verizon hotspots available to check-out for students who do not have an internet connection at home. Parents can apply for a mobile hotspot to provide internet access for educational purposes during the regular school year. The hotspots are restricted to District 32 Chromebooks for student use only. If you would like your household to be considered for one of the hotspots, please complete the form at
https://rb.gy/jetffn
. Please note that filling out this form will not guarantee you'll receive a hotspot as quantities are limited. You will be asked for your name, address, email address, the names of children in the household, and questions about your IEP/504, English Language Learner and Free/Reduced Lunch status. Priority will be based on IEP/ 504 or ELL status, Free and Reduced meal qualification, and Verizon network available at the address provided. If you require assistance with the educational process, contact your students office.